Building a Community Learning Center in Luwero
In June 2018, we are going to build a Community Learning Center in Luwero - a rural Ugandan village. It will consist of a library and a classroom, where members of the community can gather to learn about anything - reading, nutrition and health, English, agriculture, entrepreneurship, etc. We are partnering closely with the local mayor and other community leaders, to ensure the projects adds value to, and meets the needs of, the local people, and that they are invested in its creation, and on-going operations and maintenance. Below are renderings of the building's design, provided by the local Ugandan contractor.

This our biggest project yet, and we are SO excited! But with big projects come big expenses, and we hope that you can help with that! If you would like to contribute, please click on the DONATE tab at the top of the page. If you work for a company that matches charitable contributions, or would otherwise like to be involved, let us know!


Helping With Tuition & School Fees
| | |
| --- | --- |
| | July 2017 - Alpha Academy is a primary school (K-7) in Luwero, Uganda, that we have partnered with over the past few years. The last time we visited, we found out that there are many students at the school who are delinquent on their school fees due to their family's inability to pay. The headmistress, Christine, is passionate about education and knows that every child belongs in school. Thus, she welcomes the children to school each day, despite them not being current on the payment of their tuition and fees. We were impressed by the children's desire to learn, and Christine's kindness and compassion, and have provided scholarships for some of these children, to cover their school fees for the year. |
Lace Up For Literacy Virtual 5K Fundraiser
Over the 2017 Memorial Day weekend, we had our 2nd Annual Lace Up For Literacy Virtual 5K - the money from which will be used to provide tuition scholarships for children in Uganda. We received support from so many people, and are so grateful!
We Built a Library!
In June 2016 we returned from a trip to Uganda with nine volunteers, where we built a library at Ntumwa Primary School - a school we have partnered with for the past 7+ years. It was wonderful to see the excitement and enthusiasm of the students, teachers, and communities, as we worked along side each other each day, and watched the project came together. ​

Words cannot adequately express our gratitude and appreciation for all those who made this project possible. Because of you we were able to cover school fees for four children. Because of you school children have new playground toys, new desks, and new textbooks. And because of you they have a library - 750 square feet, 4,000+ books, and a whole new world of imagination, knowledge, opportunity, and adventure.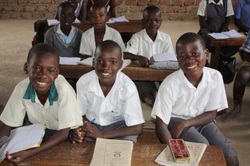 In October 2015, we partnered with Ntumwa Primary School and Alpha Academy to implement new educational programs focused on developing students' confidence and independence in the areas of reading and writing, and challenging them to become more active thinkers. We also donated more than 500 textbooks and reading books to these schools, furthering our efforts to provide students and teachers with sufficient resources to enable positive and effective educational experiences.
---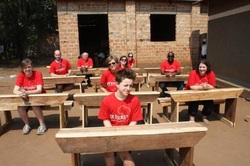 We took a volunteer group of nine people to Uganda in February 2014. We returned to Maranatha and Ntumwa Primary Schools, and added a partnership with Alpha Academy. Volunteers built desks (enough seating for 200 students!) and 15 chalkboards, and installed cement floors in four classrooms. Additional projects included distributing donated books and school supplies, purchasing and distributing locally sourced textbooks, and holding a community workshop with presentations based on principles of self-reliance. Though we worked hard, we made sure there was time to read books, sing songs, play games, and dance with all of the kids!
---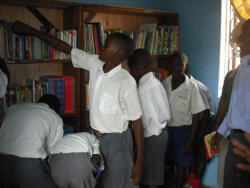 We received a letter from Ntumwa Primary School, a school in Uganda that we have worked with for the past few years. The following is an excerpt from that letter: "Ntumwa Primary School would like to thank Teach the Children for the support we have been receiving from you, among these ...reading books, text books, sports jerseys and balls. Ever since we received the books, there has been a big improvement in the children's performance, which has enabled us to enroll many new students to our school. We managed to score 24 top grades in the Primary Seven who sat their exams last year (2012) which made a difference from the previous years. So we thank you for the great change you brought to our school."
---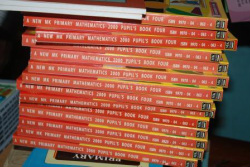 We spent two weeks in Uganda in November 2012, continuing our work with Ntumwa Primary School and Maranatha Primary School. These schools only had one textbook per subject per grade, available only to the teachers. Due to the cost, textbooks are not available for students. We visited local publishers, purchased textbooks, and were able to provide these schools with more than 300 textbooks.

We also donated school supplies, held workshops on education, literacy, and goal-setting, and distributed donated soccer balls and jerseys.

---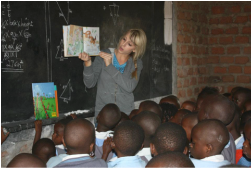 In November 2011, we spent two weeks in Uganda with volunteers and our Board of Directors. We visited eleven schools, built shelving to prepare for the arrival of donated books, and visited, played, and read with students. We also met with community groups and made presentations regarding health, education, literacy, employment, and finance.

We visited schools in which we had established libraries, and found that the books we have donated are used daily, and children and teachers are excited about and engaged in reading. Literacy rates at the schools have increased dramatically since receiving the books last year.
---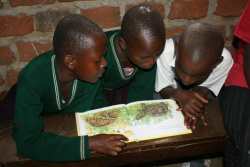 In July 2011 we shipped almost 4,000 pounds of books to nine schools in the Jinja, Mukono, and Lugazi Districts of Uganda. The books were collected and donated through Eagle Scout projects, elementary schools, and religious organizations in the Salt Lake City area.


---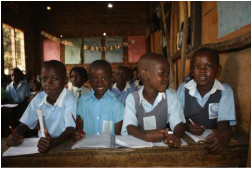 In August 2010 we shipped over 2,000 books, donated by churches in the Salt Lake City area, to two elementary schools in the Luwero District of Uganda. The staff and children at the schools were very excited and appreciative. The following is a message we received from one of the schools:

"The staff of Ntumwa Primary sends its appreciation to your organization for the great donation ...to their school. We are looking forward to improving our reading capabilities by using the books that were donated."

---